If you're looking for a challenging beautiful hike with killer views of the Napali coast, a bit of mud, delicious fruit along the way, and a breathtaking waterfall, then the Hanakapiai trail is for YOU!  Plan for it to take all day, and take PLENTY of water and sunscreen. The trail begins at the parking lot at Ke'e beach (the end of the road on the north shore of Kauai) and goes out along the Napali coast to Hanakapiai beach. This beach has dangerous surf during the winter season, but during the summer its fun to cool off and explore the small cave at the far side of the beach before starting up the valley to the waterfall. From Hanakapiai beach, the trail continues up to the Hanakapiai waterfall.. Along the trail to the waterfall you'll get a great work out and find tons of different kinds of fruit (guavas, mangos, avocados, and mountain apples), and huge stands of bamboo. When you arrive to the waterfall, you really deserve that swim in the chilly waters of the giant pool!
View of a windswept Ke'e beach from the trail: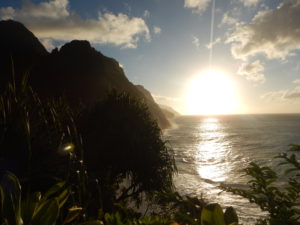 After a long and hard hike, we got to watch the sun sink into the sea!