Driving up the 550 on Kauai to Waimea Canyon State Park gave us some fantastic views of the canyon.
The dirt exposed by a small stream on the side of the road was the REDDEST I had ever seen!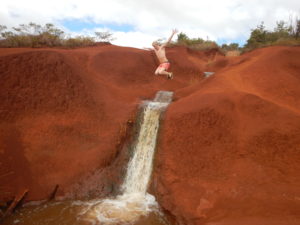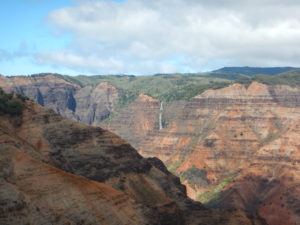 We had lunch with a view from the side of the road! The boogie boards we had in the trunk for later were great makeshift picinic blankets. Lukas even thought about trying them out downhill! 😛
The waterfall from the Jurassic park movies!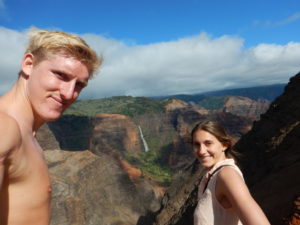 View from the lookout over the Kalalau Valley:
This is the valley where they filmed King Kong, Mighty Joe Young, and Jurassic Park, just to name a few. This beautiful valley hasprovided for generations of native Hawaiians, and we even found the entrance to the small hunting trail that wild boar hunters use to descend down into the valley.
We even got to look out over the location previously known as the wettest place on earth (without it raining on us)! Scientists set up a collection system in Maui that has recently collected even more rain, stealing the title of the wettest place on earth.