At the Kamokuna Ocean entry on the island of Hawaii, you can get up close and personal with lava as it flows into the ocean from the continuously erupting active volcano, Mauna Loa!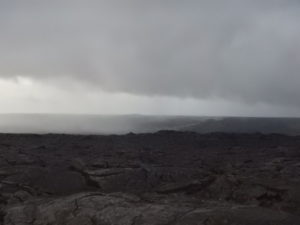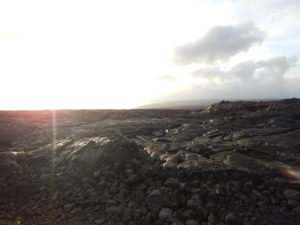 We started the 4.5 mile hike/walk across the hardened lava flow at the perfect time of the day- about 4:30pm. We power-walked along at a good speed and arrived to the lava flow right as the sun was setting! The lava flowing into the ocean was the same color of the colors of the sunset over the ocean! It was breath taking.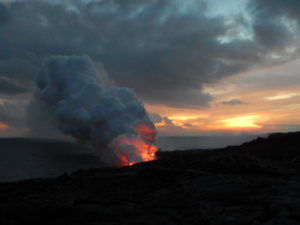 Luckily the winds were blowing the sulfuric acid steam away from us so that we could safely stand less than a quarter mile (about 500m) away from the lava flow.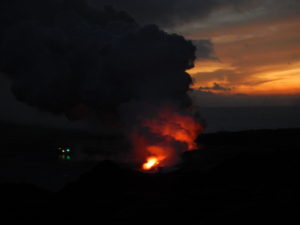 Mesmerized, we sat and watched the lava sizzle and crack into the ocean for more than two hours, oo-ing and aw-ing when small explosions of pressure sent glowing rock spatter hurdling skyward.
Lava spitting as it flows into the ocean (41MB, 19 sec):
We even walked inland along the edge of the fresh lava flow, guided through the sharp rocks and cooled bubbles of lava by flashlights, looking for the opening in the lava flow crust. The closer we got, the more articles of clothing came off. Standing so close we were starting to sweat, we peered across the makeshift fence into the huge gaping hole glowing with the lava flowing below.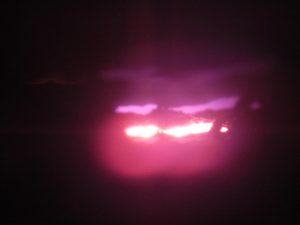 Hearing the lava crack forebodingly under us got us to start the hike back, but not before we happened to bend down to touch the ground. It was warm! In some places hot air escaped through small fissures, so hot you couldn't keep your hand in place since if felt as hot as an oven!
It was quite an experience that we can definitely recommend to everyone visiting the island of Hawaii. Just be sure to brave the long walk at the end of the day and have a flashlight with you!